WHAT'S NEWS
CPITS Statewide Symposium in Santa Barbara!!

The 2011 CPITS Poetry and Writing Symposium WRITING OURSELVES TRUE is quickly approaching on September 9-11, 2011 at LA CASA de MARIA in Santa Barbara, and the deadline to register is August 12th. The registration form is on the brochure, downloadable from our website, www.cpits.org. Don't miss one of the most exciting writing conferences in the country with over 14 workshops to choose from, delicious cuisine, and a truly serene environment. La Casa de Maria, Santa Barbara can be found at the end of a winding lane canopied in dense foliage leading from the Upper Village in Montecito. Set in a secret garden, guarded by woodlands and the tumbling waters of the San Ysidro Creek, its ambience is that of a much-loved country house through which many generations have passed and left their mark. La Casa de Maria was named "one of the best U.S. retreats" by U.S. News and World Report, 2006. The center boasts rooms with private baths. Amenities include walking and hiking trails, a pool, volleyball, tennis courts, ping-pong, and trained massage therapists on site. This is truly a lovely and special setting, a romantic get away.


The pool at La Casa de Maria


Check in time at La Casa de Maria begins at 4 pm on Friday. The symposium begins with a 6 pm dinner on Friday, followed by an 8 pm reading by our writing intensive teacher and featured reader Steve Kowit and our honoree Perie Longo. Saturday begins at 8 am with breakfast, and workshops will run all day from 9:00 am to 5:00 pm. A general meeting will be held after lunch on Saturday from 1 to 2 pm. Saturday evening will include an open poet reading and celebration at 7:30 pm. Sunday workshops will begin at 9:30 am and the symposium will end by noon. There will be time throughout the weekend for swimming and relaxation.

We are very excited to welcome Steve Kowit, whose handbook for writing poetry, IN THE PALM OF YOUR HAND, is the best-selling book of its type at Amazon.com. He is the editor of the anthology THE MAVERICK POETS and his most recent poetry collection, THE DUMBELL NEBULA, was published in January 2000. Kowit received a MA from San Francisco State College, and an MFA from Warren Wilson College. He teaches at Southwestern College in Chula Vista and lives in San Diego Back Country. He is also the subject of our "In The Spotlight" interview in this months newsletter.


Los Angeles Meetings


Daryl Chinn, Terri Glass, Nels Christianson, David Del Bourgo, Dawn Trook and Christina Chang
met at Nels Christianson's home for a CPITS Board meeting on July 23, 2011.

Two meetings took place on July 23 and 24 in Santa Monica to discuss ways to strengthen CPITS programming for the upcoming year. On Saturday evening, a board meeting took place at the home of Nels Christianson. Welcome new board member, Dawn Trook from Merced County! Christina Chang, whose technical expertise, brought CPITS great presence to Facebook and other social media sites, will step down as Vice President since she is returning to graduate school, but will remain on the board. CPITS is actively recruiting a new Vice President, Treasurer and other positions. If you know of anyone who you think could contribute as a board member, please contact Board President Daryl Chinn at darylngee@yahoo.com.

On Sunday morning, CPITS Program Director, Terri Glass, LA poet teacher, David Del Bourgo, and board members, Nels Christianson and Daryl Chinn met with Sherman Pearl and Richard Modiano, Executive Director of Beyond Baroque. Beyond Baroque is a literary arts center in Venice, CA that will host writing workshops for middle and high school students beginning spring of 2012, funded by the James Irvine Foundation. They will use CPITS poets to teach these workshops. We look forward to this collaboration and bringing creative writing to the youth of the LA area.





Welcome Our Summer Volunteers!
This summer we had two high schools seniors volunteer at our CPITS office. Luckily both girls are a product of the CPITS program; they were valuable in helping us with the upcoming Symposium and many tasks at the office where we couldn't find the time to complete. As summer comes to a close (school starts on August 15 for the two incoming seniors) we would like to thank Bethany Kwan and Amanda Chun for all their time and hard work.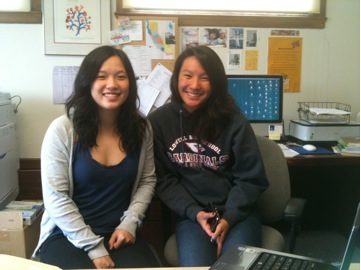 CPITS Summer Interns Bethany Kwan and Amanda Chun

Hi, my name is Bethany Kwan! I've been volunteering at California Poets in the Schools (CPITS) this 2011 summer, which has been a really neat experience especially since I was fortunate to have the CPITS program offered to me from kindergarten to high school. The poet-teachers really know how to captivate a classroom of kids and get them to write down their thoughts and emotions down on paper. When I attended Jefferson Elementary School, Ms. Susan Sibbet brought in a little toy microphone for us to recite our poems, this simple little toy got all of us jumping out of our seats to read our poems. And then came middle school. The poet-teacher was able to get our brains thinking by giving us a hands-on activity. To be honest, by high school, part of the thrill in writing poems was the fact that we didn't have to listen to another one of our teacher's unending lectures. But hey, we were still grateful for the program! This summer, I have been taking classes, working, and volunteering at UCSF and CPITS, which has been such a friendly environment. As I move on, I'm finishing up high school and hope to attend the University of Hawaii at Manoa. I'm interested in majoring in executive marketing, but I'm ready for whatever life has in store for me.

Hello, my name is Amanda Chun. In August, I will be starting my senior year at Lowell High School in San Francisco. I started volunteering as a Volunteer Administrative Assistant for CPITS starting in June. I first heard of CPITS in my freshman year of high school. At Lowell, a poet teacher came into my English class one a week to teach us how to express ourselves in a poem along with writing poems about objects. I thought it was a very interesting approach to writing poetry. This summer, I have been volunteering at the UCSF hospital in the Volunteer Service Office and CPITS along with swimming competitively 5-6 times a week. My experience volunteering for CPITS has given me a chance to take part in the many tasks that I may encounter in the future. As my senior year approaches, I plan on majoring in Biology, Physical Therapy, or Hospitality.



return to top
IN THE SPOTLIGHT: POET/AUTHOR STEVE KOWIT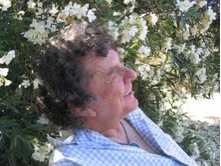 Steve Kowit, our featured workshop intensive leader for our CPITS symposium
will be at Casa De Maria on Friday, September 9.

Terri: When did you discover the love of poetry and who were some of your mentors?

Steve: I've been a writer since I was a kid. My first "novel," (illustrated in crayon) was about a slave rebellion. I was probably in the 4th or 5th grade. I had a schoolteacher in 10th grade, George Bailin, who was a serious poet, and so I started writing poetry because I liked him a lot and wanted him to like me. As soon as I started I was hooked. I've never stopped. Then I discovered Hart Crane and fell madly in love with his work. I didn't understand a word of it, but what sumptuous language, what marvelously ecstatic music and phrasing! I even gave a copy of The Bridge to a girl I had a crush on; that was also, probably, in the 10th grade. Then I wanted to write like the avant-garde, the Beats and Black Mountain people and New York School poets who were starting to make their reputations in the early 60s. The poets who published in Yugen. But one day I had an epiphany: Other than Ginsberg's work, I didn't really love their poetry. I was already in love with Dylan Thomas and Crane and Whitman, but because Whitman was a century in the past, and because of the vast range and power of his work, it was hard to use him as a model. And then I discovered Jeffers. Of course scores and scores of poets among my contemporaries have influenced me, people like Mary Oliver, Kim Addonizio, Dorianne Laux, Ron Koertge and Ted Kooser. Far too many to name.

Terri: To what do your attribute the success of your handbook for writing poetry, In the Palm of Your Hand? Why is it the best selling book of its kind on Amazon?

Steve: I wrote it relatively unselfconsciously, in my real voice, out of my real passions and after years of classroom experience teaching poetry to talented adults. But also, I think, I wanted to make sure that it was reader friendly at every level, that it didn't sound technical or esoteric or about some sort of specialized knowledge. And I knew that a lot of the model poems were wonderful models of contemporary poetry that might disabuse people of the notion that poems are always incomprehensible and off putting.

Terri: Do you have anything special lined for the workshop intensive for our poet teachers at Casa De Maria on September 9?

Steve: I want participants to write drafts of at least three new poems, hopefully four, to look at the craft behind a few marvelous model poems, to see what makes them work as moving human communications and acts of memorable linguistic music. I want participants to dig into their emotional memories, things they've always wanted to write about, but haven't yet managed to. Have participants use language acts (questions, exclamatory one-word sentences, broken-off sentences, etc.) and other formal elements that they don't commonly use, work with tone and voice, with assonance and off-rhyme in ways that might push them further in one or another direction. Ultimately, I'd love people to end up with four first (or second) drafts that are hot, that they are excited to keep working on, that they know are going to turn into real keepers. That's what I'd want in a workshop: to produce real work, even though the poems might still be at a rough first-draft stage. But I want it all to be fun; no matter how many tears people shed at the memories or material out of which they're working, the workshop has to be fun and relaxed and full of laughs and with lots of room for lots of points of view (since most or all participants are poet teachers, they all know as well as I do, that there's no "right" way to write a poem, no "correct" process!). Ultimately it should be exhilarating, make people want to get home and write poems! An essay of mine in the current Writer's Chronicle is called "A Poet's Anti-Rule Book" and takes a skeptical view of rules for poets. The trick is to improve on the blank page... which isn't easy to do!

Terri: I look forward to seeing some hot drafts and breaking the rules with you Steve. Sounds like tons of fun!

return to top
PUBLICATIONS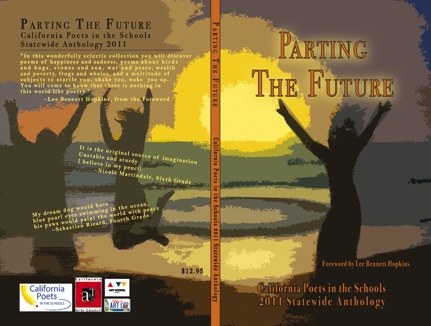 PARTING THE FUTURE, the 2011 Statewide Anthology, will be released September 9th at the Writing Ourselves True Symposium in Santa Barbara. The collection features poetry from more than 75 students and 10 poet teachers, along with 4 lesson plans, a foreword by children's author, Lee Bennett Hopkins, and an introduction by Kristin Margolis of the California Arts Council. Cover art comes from high school student Kayla Jones, with design by Blake More. Editor Karen Lewis reminds every poet-teacher that submissions will soon be open for the 2012 Anthology. Start sorting your 10 favorite student poems written from January 2011- onward. A special call goes out for bilingual poetry. We're also seeking a hands-on Assistant Editor for 2012. Contact klewis@mcn.org with questions.
SONOMA FUNDRAISER
Angel Island Sailboat Trip to raise money for the Sonoma County Branch of California Poets in the Schools. Saturday, October 1, leaving Sausalito at 10 am, returning by 4 pm, depending on the wishes of the guests. Price: $150 per person, $275 per couple.
Come join us for a picnic lunch on an island rich with manzanita, madrone, toyon, and history. Sail over with poet-mariner, Jabez "Bill" Churchill. Eat a lunch overflowing with local produce at one of the island's picnic spots. Listen to poetry read and recited by poet-teachers from the program. "A loaf of bread, a jug of wine, and thou…" Thou art the only part missing! To reserve one or more of eight places: `Please call CPITS area coordinator, Phyllis Meshulam, 707-829-0787 or 707-486-7450.
AWARDS
Mendocino poets Blake More and Karen Lewis have been awarded California Arts Council - Artists in Schools support for the upcoming 2011-12 school year. They will lead workshops at Fort Bragg, Mendocino, and Point Arena schools, in partnership with the Arts Council of Mendocino County.

return to top
EVENTS

Wednesday August 10, 7-9 pm at the Bridgeway Cafe, 333 Bridgeway, Sausalito, Mendocino Coast Women Poets are the focus of the "Sunset Poetry" series in Sausalito, featuring Blake More and others.
POEMS OF THE MONTH
Lost Memories
When waves wash away my footprints
When the wind carries away my voice
And fills in the space where I stood

When the feel of my feet in the surf
Breaking the constant rhythm is replaced

when the ripple that disturbed the surface of the unknown world
Fades to an echo so loud even the background of the waves crash

When the dancing fall and rise
That seeps into the vast presence is forgotten
And when my laugh which cut through the cold
Falls to the frost bitten rocks

Do you forget me?

But I could never forget you
The light touch of the memories shared
So deeply engraved in my mind

I left my thoughts to echo through
The pebble strewn caves that line the sand
I let the orchestra of grass that lussls the hard grace
Into an unpredictable calm
Paint my stories across the sky

And

I left my secrets locked in a box on the shore
With only the chance of memories
To reassure my worry

Jade Mobert
Pacific Community Charter School, Grade 7
blake more, poet- teacher



TUESDAY'S CHILD
for Zane

…is full of grace, but much more, son
of my son, made of love and earth's fruit,
high surf, long trails toward wide vision
this grandmother dare brag, snuggling him
first time in the holy air, he light as light,
delivered floating in his liquid orb.
His mother knew a blessing, yes,
from the start. Nothing could stop
him slipping through heaven's cracks
bent on life, though angels tried to
hold him back. What could he want
from the world with all its strife despite
the splurge of nature, tender parents,
two sisters who would care for him,
coo to see him smile, share kisses,
blankets, books, the "real" rabbit,
their princess wings if he missed
where he came from. Long before dawn
I woke in a pool of moonlight on my pillow
and thought truly, a sign from above,
if only I could call down my husband
to shout the grand news. When sun rose
I opened the door for the paper and
there over the mountains a rare dusting
of snow as glistening crown.

Perie Longo, poet- teacher
Santa Barbara

Perie will be reading with Steve Kowit on September 9 at our symposium at Casa De Maria!


return to top