WHAT'S NEWS
Board Update

The CPITS Board of Directors welcomed three new board members who each bring new geographic areas and new expertise to our board. Michele Krueger joined us after the symposium in September and brings her experience from her poet teaching work in Lake County and experience in internet marketing. Taylor Altman is from Palo Alto and brings her experience with nonprofits and national college recruiting programs for youth. Lisa Ezzard is a dancer and artist and teaches in a school in San Diego County.

We came together for our annual Board Retreat and planning session on the weekend of December 4th and 5th working with David Sibbet and the Grove Consultants. We met with leaders and poet teachers on Saturday, hearing reports from the field of the successes and challenges for CPITS for 2009-10. On Sunday, we formed our goals for 2011 and beyond, with our next bold steps in four areas: Working on leadership at the executive and area coordinator levels, working on marketing and pr, working on developing a larger board of directors and finally, working to provide our poets with a great symposium and re-committed to the Statewide Anthology for 2011. We hope that all the poet teachers are collecting good poems: the new editor will be announced and be sending out the instructions for submissions soon.


Helpful Essay About Teaching Young Writers

Former CPITS poet teacher, Jane Hirshfield has written an essay called Three Keys: Opening the Gate of Poetry to Young Writers that was published in LEARNing Landscapes, Volume 4, Number 1. Here she credits CPITS as that "superb and still thriving program" that gave her first job as poet teacher. In this essay she explores the three keys to opening the gate of poetry to young writers from her perspective which covers the passion for poetry, freedom of mind and the "writing invitation" To read this fascinating and helpful article go to: http://learninglandscapes.ca/images/documents/LL-no7-v-final-LR.pdf


Save The Date

Poetry Out Loud state finals will be held March 20-21, 2011 in Sacramento. The dinner will be that Sunday evening and the finals in the Senate Chamber will be on Monday.

This year the CPITS annual symposium will be held at the beautiful retreat center of Casa de Maria, 800 El Bosque Road, Santa Barbara on September 9-11, 2011.


Contest for Symposium Theme

We are opening a contest for this year's theme for our CPITS symposium in Santa Barbara. Any active poet teacher is eligible to submit 1-3 themes. The deadline will be January 21. 2011. The winner will receive a 15% discount on conference fees. Previous themes have been Science and Spirit, Full Circle and Changing Perceptions. Please submit your exciting themes to terri@cpits.org.

return to top
IN THE SPOTLIGHT -- Michelle Bitting


Interview with Michelle Bitting

Michelle Bitting is one of our newest poet teachers who has been successful in securing funding to develop workshops at a charter school in LA County. LA was once a very active county for the CPITS program and now needs revitalization, with the help of Michelle and other new poets who have entered the program in the last two years.

Terri: Describe your writing/ artistic background.

Michelle: I grew up singing in the choir and acting in community theatre plays.

I danced a lot, played instruments and had a major affair with painting and photography. In college I fell in love with Dylan Thomas and this combined with a stint as a restaurant line cook in my late twenties all meshed to make the perfect fuel for becoming a poet. Around the time my son was diagnosed with autism, I had begun to write poems in earnest, wherever I could, schlepping him and his baby sister around to school and appointments, late at night while I held them nursing at my breast and scribbled thoughts with my free hand. A few years ago I went back to school and took an MFA in Poetry at Pacific University, Oregon.

Terri: How did you first find out about CPITS?

Michelle: I think I first heard about CPITS talking to other poets at various writing retreats like Squaw Valley and Esalen. The idea of going into schools as a free agent to pass the poetry fire on to young students seemed like magical and necessary work.

Terri: When did you apply and who trained you?

Michelle: In May of 2009. I was finishing up my masters and eventually came to a CPITS retreat in Santa Barbara. Someone connected me up with Shelley Savren, Ventura County Area Coordinator and we made plans to keep in touch. Soon after, she trained me. I drove up to Ventura from Los Angeles to intern with her. She was a fantastic mentor. I loved watching how she got the kids to respond. Her enthusiasm was infectious and she knew how to cast her spell and control the classroom. From her, I acquired a solid base for my own teaching and have gone on to embellish and shape my lessons to fit my style.

Terri: How did you find funding for the school you now teach in?

Michelle: I took a wild stab and contacted someone I knew controlled a private California foundation that might be interested in funding poetry teaching in a local public school. I was right. I worked together a proposal and budget and they accepted.

Terri: What about the LA area is a deterrent or an advantage about establishing yourself as a CPITS poet teacher?

Michelle: I don't know a ton of details about LAUSD budget and politics but I know, as everyone does, that this district is hurting and that funding for the arts has been slashed to the bone. It's also a HUGE monster of a district so it will require focusing on an area or school and then growing it outwards. We need lots of resourceful poets starting fires in several places and then fanning it in hopes of maybe spreading the heat.

Terri: Describe your favorite anecdote about teaching so far.

Michelle: One of my classes created a book of Odes To A Poetry Teacher and gave it to me as a gift for the time I spent with them. Some of the things they said took my breath away in that they expressed how profoundly moved they were by the experience of studying and writing poetry together. It was the best Christmas present I've ever received.

Terri: Thanks, Michelle, for your verve pursuing that family foundation. It is a good example of what a new poet can accomplish in a short amount of time.
EVENTS & ANTHOLOGIES

Events

Terri Glass will be reading from her new book of poetry, The Song of Yes at the Barnes and Noble Poetry Series, 5500 Grossmont Center Drive Suite 331, La Mesa, CA on January 19 at 7 pm.

Pamela Singer and Iris Dunkle of Sonoma have a radio show "Conversations with Poetry" the last Monday of each month, from 1-2 pm on KOW5.FM. Or go to www.paintedmonkey.org to hear the archived version.

Local Anthologies

Moving Thoughts: An Anthology of Mendocino County Youth Poetry, edited by Blake More is available in limited quantities at Four-Eyed-Frog Books in Gualala as well as online for $4.99 (plus shipping) The book was made possible with support from the Mendocino Office of Education, the CAC Artist in Schools Program, CPITS, as well as school districts and other individuals and organizations throughout the county.

Fire From the Sun Shines Down, edited by Michelle Bitting is a poetry anthology of 4th grade students at Marquez Charter School in Los Angeles County. Students read from this anthology on December 10 at Village Books in Pacific Palisades and an article was posted in the Palisadian Post about the event and Michelle's work with these students.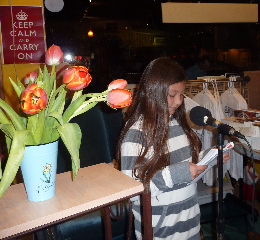 Meilani Wang of Marquez Charter School reading at Village Books, Pacific Palisades
KUDOS
Lea Aschenas published an article on Cuba in Perceptive Travel magazine about a real-life message-in-a-bottle story of a bottle thrown by a Sausalito man and found by a little girl in Cuba, and the friendship and cross-cultural connection that ensued. Visit here to read the article.

return to top
POEMS OF THE MONTH

Ode to My Feet

My feet are silver bullets
bursting through the sky.
I can go with them
everywhere.
They are as fast
as lightning shooting
over the stars,
drifting around the planet
like a rocket.
Without my feet
I would be nothing
in the middle of nowhere.
My feet are a G.P.S.
so I can find my way home.

Joshua Barad, 4th grade
Marquez Charter School, Pacific Palisades
Michelle Bitting, Poet Teacher



What The Driftwood Wants

Not to be seen
Not yet
To know the sand
Before I know the fire.

Kathy Evans, Poet teacher
San Francisco