CPITS at WATERSHED, Environmental Poetry Festival

For 15 years CPITS has presented at Watershed, and this year CPITS poet teacher Chris Olander led the Creek Walk that opened the festival October 2, 2010. Presented by Poetry Flash and held at Civic Center Park in Berkeley, there were a myriad of adult and student readers. CPITS poet teacher Grace Grafton and seven of her Lakeshore Elementary School students performed in the afternoon. CPITS board member Susan Sibbet and past board member Nina Lindsay (who first became a young poet when she was taught in a CPITS workshop by former CPITS poet teacher devorah major) had a CPITS booth where young people wrote watery poems. Robert Hass, past U.S. Poet Laureate and founder of Watershed and River of Words congratulated all the student poets, and said that it was no accident that these young poets write such wonderful poems, since they have been taught by these three inspiring poet teachers, Susan Sibbet, Grace Grafton and John Oliver Simon.



Mary Korte's Keynote Address at IONS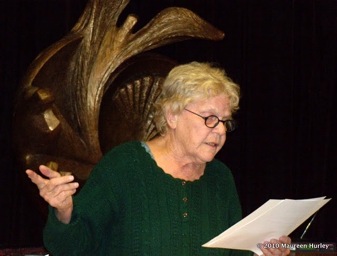 Several attendees who heard Mary Korte's keynote speech at the Science and Spirit symposium at the Institute of Noetic Sciences August 29th were so inspired by it that requested a copy. In this speech, she spoke about the importance of our work to keep the imagination alive in young people. It is now downloadable on http://www.cpits.org/background/newsletter.htm
Cartwheels on the Sky: Web Poetry Show

Thanks to the work and support of Madera Poet Teacher and Ladybug live producer Georgia Jones, Mendocino Poet Teacher Blake More is hosting a web poetry show called "Cartwheels on the Sky" on Ladybuglive.com. CPITS's Terri Glass was the September feature, and other CPITS poets on the show include Kathy Evans, Brandon Cesmat, Alexa Mergen and Joan Gelfand. For more information on tuning in, go to: http://www.snakelyone.com/radio/cartwheels/cartwheels-home.html


return to top
For all upcoming events, please visit the CPITS website at http://www.cpits.org/events/events.htm to see full details and click on the links below to get Facebook updates (join our Facebook page today at www.facebook.com/cpits).

1) Tuesday, October 5, 2010, 10:00am at the San Francisco Library, 100 Larkin St., San Francisco, CA 94102, poet Dawn Marie Knopf will lead a poetry workshop for second graders for the annual event, Kidquake, a popular part of San Francisco's Litquake.
2) Wednesday, October 6, 2010, 10:00 am at San Francisco Library, Koret Auditorium, 100 Larkin St., San Francisco, CA 94102, poets D. Scott Miller and Dawn Marie Knopf will emcee an assembly for middle-school students as a part of Kidquake. The event will feature readings from N.H. Senzai, author of Shooting Kabul based on her husband's experiences leaving Afghanistan, Jon Voelkel & Pamela Craik Voelkel, authors of The Jaguar Stones Trilogy, as well as two readings from SOTA students. A question and answer segment about the craft of writing will follow.
3) Friday, October 8, 2010 at 3:00 pm at the San Francisco Public Library's Teen Center, Main Branch, 100 Larkin St., 3rd Floor, San Francisco, 100 Larkin St., San Francisco, CA 94102, poet Dawn Marie Knopf will lead a poetry workshop as a part of the TeenCrawl, Litquake's literary crawl for teens.
4) Friday, October 15, 2010, 7:30 pm at the Many Rivers Books and Tea Shop, 130 S. Main St., Sebastopol, Sonoma County poet Phyllis Meshulam will read from Doors: Poems from the 2008 Campaign.
5) Friday 10/15 at 9:30 am KOWS Radio107.3 presents the four Redheaded Poets, Susan Kennedy, Penelope LaMontagne, Phyllis Meshulam and Gwynn O'Gara.
6) Monday 10/18 from 1-2 pm, KOWS Radio 107.3 presents Iris Dunkle, Pamela Singer Yezbick and Phyllis Meshulam, three CPITS poet teachers, These programs can be heard online if you are not within the broadcast area. www.oaec.org/KOWS
7) Thursday 10/21 from 7-11pm, Live Worms Gallery, North Beach 1345 Grant, between Vallejo and Green in San Francisco, blake more will be one of 11 poet artists in an art show called "Fall Show Rising".
8) Sun 24 Oct 8 pm at Freight & Salvage 2020 Addison Street in Berkeley (Downtown Arts District across from Berkeley Rep) 20th Anniversary Celebration for Raymond Nat Turner's 20th UpSurge! We'll be celebrating with family, friends and community, including living legends and mentors Donald "Duck" Bailey and Barbara Dane; Vukani Mawethu; Destiny, Harpist From the 'Hood; India Cooke/Bill Crossman; Yancie Taylor; David Sturdevant of the Medicine Ball Band and others.
A Scent of Things
Sun sings of sleep,
his fire heating this late-summer breeze.
Like a red-tailed hawk dreaming
before it wakes to kill, I yearn
to peel back the black-oak bark,
crawl inside the old trunk, uncaring
should the vines of poison oak twine
about my overdone being and turn me flame orange.
If I could only swallow the scent of sage
that censes this begotten day, cup the sweet tang
of bay laurel whence some minuscule grey spider
alights by thread upon my moving pen—
pausing the poem, releasing it onto a fallen,
scorched, decaying branch—then,
then I might know this loam upon which I sit
and mumble less uselessly, uselessly.

Zev Levinson (poem written at the Science and Spirit symposium August 2010)


Don't Forget And
When I walk into a room, all you see is my appearance.
Am I dark or light? Black or white?
Or. or. or. What about and. and. and?
In your mind, I'm either but never both.
In my mind, I'm a black and white photo.
My family is a grand piano with black and white keys.
I come from kilts and kente cloth, hip hop and old rock.
So why do you think I'm just white?
Why do you think I'm just black?
Does one color overpower the other? No.
So call me a mutt. A mix. A bi-racial...
Call me black and white. Dark and light.
Just don't forget the word and.
And. And. And.
Audrey Lyall was in the 8th Grade at Hall Middle School, Larkspur when she wrote this under Dana Teen Lomax, Poet Teacher. She performed this poem at the Marin Poets in the Schools Benefit Reading at Tamalpais High on October 5th.